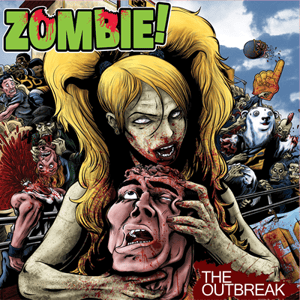 $

12.50 - On Sale
RELEASE DATE: OCTOBER 1, 2011. ON SALE NOW!!
ZOMBIE!'s long awaited and highly anticipated debut album "The Outbreak" is finally here!
This powerhouse of REAL HORROR ROCK includes 14 blood soaked ZOMBIE! tracks with artwork by COREFOLIO.
Order the CD NOW for ONLY $12.50!
REVIEWS!
"The Outbreak" is a scorching, gorey, sing-a-long FUN celebration of the coming zombie apocalypse. Eric Weiss, the heart of Zombie!, never misses a beat as he digs up Danzig-era Misfits, rampages through the Ramones and claws at Tiger Army viscera. "The Outbreak" not only succeeds in being the most fully-realized horror punk visions in a loooong time — the tunes rock hard, the humor is black and Corefolio's accompanying artwork is dead on — Weiss also sets a new standard by which future entries in the genre will have to be measured. No self-respecting ghoul can exist without this. Get it now!
— Pitch Black, HorrorGarage.com
"As a Radio Disc Jockey, there are very few records that are sent in to you that blow your mind, and leave you coming back again and again. However Eric Weiss, AKA "Zombie!", has brought us a true throwback to the good old days. This album is perfect for anyone with a bloodlust for crunchy riffs, gruff vocals, and songs of the dead. So light some candles, dig up a grave, and turn this record up!"
— Horrorshow Sparks, Horror-Punks.com
"The one-man band that is ZOMBIE! (a.k.a. Eric Weiss) is more than your average horror punk outfit. Transport your eyeballs over to http://TheZombieRiot.com and you'll see that ZOMBIE!'s music is merely the foundation for an entire undead multimedia experience…"
— Rue Morgue Magazine
"ZOMBIE! Real Horror Rock! is fu#@ing SICK!", anyone who likes the THE MISFITS or the THE RAMONES will fall in love with ZOMBIE! instantly.", "It shouldn't be long before this band explodes, spraying both quality music and the blood of the innocent through your speakers." - AMP Magazine #104 – AMP Magazine
"ZOMBIE! is the real thing. Eric Weiss — the brains behind the outfit — not only knows his horror movies, but manages to make kick-ass rock n' roll tunes about 'em." – Send More Cops Zine
"…a solid disc full of horror-inspired rock and roll in the vein of classic Misfits. My favorite is "Children Shouldn't Play With Dead Things," at least partially for creating a piece of art that lives up to the awesomeness of the title." - Cory Casciato, The Inevitable Zombie Apocalypse
TRACKLIST
01. Return of the Living Dead
02. If These Walls Could Talk, They'd Fucking Scream
03. Death Rage
04. Corpses
05. Meet Me in the Graveyard
06. Like A Monster
07. Hack Slash
08. I'll Take the Life Before Your Eyes
09. Friday The 13th
10. Murder Mansion
11. Children Shouldn't Play With Dead Things
12. Pretty Undead
13. The Walking Dead
14. Beyond Ghosts
Download the DIGITAL VERSION for just $9!
ZOMBIE! THE OUTBREAK DIGITAL Click HERE